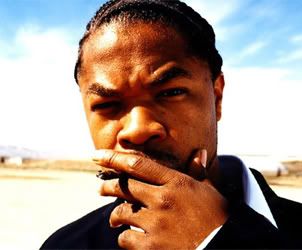 Mr. X to the Z has been one the most fierce MC's ever, long before pimping rides. X rattles the game with his raspy, distictive voice, aggresive delivery and antagonistic style noone can immulate. The west coast veteran who has been putting it down for years gained much respect and some criticism for his 1996 Papparrazzi where he expresses his feelings toward bullshit in the rap game. Check the vid. X delivers a certain bite from start to finish in many of his flows as seen in "Let it Rain" which features King T, The Liks and Defari Herut.
Hear It!


You get permanently put on your ass, like Teddy Pendergrass
Whenever you trespass on Alkaholik territory (Yeah, Yeah)
More savage than any rapper on your roster
I regulate, extortin on ya R&B label mate
Xzibit rates the state
Cross me or cause me, fuck jiggy and flossy
I'm tryin to keep the government off me
Dodgin hard time and house arrest
Whatta you expect, findin' what ya never forget
Cause you're sellin wolf tickets that your ass can't pay
What I display, skill last found in Cassius Clay
In his prime time, hustle for mine
Used to nickel and dime
Doin felony crime, but now I bust mine
Instead of bustin' at enemies when the sun go down
Me and my niggas with a fat one
Smoke 'em all down to nothing
Crushin rappers, bare Witness like Jehovah
Swore we haven't been sober
Since 21 and over





Xzibit Papparazzi
Uploaded by madhater











Illstyle
West West Ya'll


Knockturnal Freestyle
Uploaded by madhater

Knock, where you at????